"No one is enough strong for me, especially the one called X!"

Biltzikrieg (also called Dropfish by Iris) is a Fusion and a Mini-boss from Megaman X:World Of X. He notably appears at the top of Biltz Deck.
Visual data
Biltzkrieg is notably slow so the player has enough time to shoot him. His only weakness is his head, that ironically appears just as a horn (the horn in the front of the yellow laser cannon). Biltzikrieg carries a giant laser cannon which he doesn't make much usage in battle.
Strategy
Biltzikrieg will begin trying to crush X by jumping onto him which the player can easily avoid. After that, he will cover a big part of the area with explosive mines that look like skulls. After a significant part of his health is depleted, he will begin to shoot some lasers.
Form 2 strategy
The second form is notably his strongest form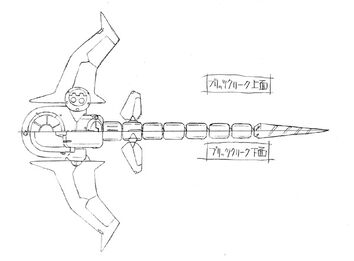 . It looks like a giant green whale. His second form will cover a significant part of the area due to his size so the player has to find a safe spot. He will just shoot giant lasers from his mouth and try to crush the player.
Form 3 Strategy
The third and final form of Biltzkrieg is notably even weaker than his first form. It will try to overrun the player and sting him.
Ad blocker interference detected!
Wikia is a free-to-use site that makes money from advertising. We have a modified experience for viewers using ad blockers

Wikia is not accessible if you've made further modifications. Remove the custom ad blocker rule(s) and the page will load as expected.