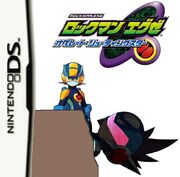 Dr. Rockman.EXE Operate Shooting Star is a remake of the first MegaMan Battle Network game that includes characters from the MegaMan Star Force series. MegaMan.EXE is a doctor and has to operate the Shooting Star MegaMan to save him.
Actually, no it's not. This game doesn't exist. It never even began development. Apparently on this website all you need to have a "fan game" is a title and a summary of it's concept.
Ad blocker interference detected!
Wikia is a free-to-use site that makes money from advertising. We have a modified experience for viewers using ad blockers

Wikia is not accessible if you've made further modifications. Remove the custom ad blocker rule(s) and the page will load as expected.