Enker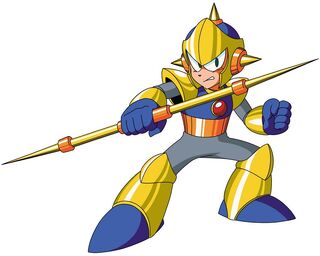 {{{nickname}}}
RKN-001
{{{numberb}}}
Information
In-Game Information

Command Mission Stats

Type
--
Level
Life Energy
--
--
Fire
--
Exp.
--
Water
--
Zenny
--
Thunder
--
FME
--
Power
Armor
Shield
Speed
--
--
--
--
Steal
Drop
--
--

List of Abilities
Ability
Effect
{{{ability1}}}
---
{{{ability2}}}
---
{{{ability3}}}
---
{{{ability4}}}
---
{{{ability5}}}
---
{{{ability6}}}
---
{{{ability7}}}
---
{{{ability8}}}
---
{{{ability9}}}
---
{{{ability10}}}
---
{{{ability11}}}
---
{{{ability12}}}
---
{{{ability13}}}
---
{{{ability14}}}
---
{{{ability15}}}
---

HP:
28
Weapon:
Mirror Buster
Weakness:
Mega Buster, Solar Flare
Series Information
In-game Appearances:
Mega Man EN
Japanese VA:
Kotono Mitsuishi

Enker was the first robot from the "Mega Man Killer" series built by Dr. Wily, the only purpose of which is to destroy Mega Man, but in Mega Man EN, Enker had reappeared claiming to have turned on Wily and taken him hostage, along with the other Mega Man Killers. In Mega Man EN you fight him in a collective stage where all of the Mega Man Killers are fought, fighting Enker last.
Strategy
Enker borrows his speed and pattern from Mega Man 10, and is not only weak to the Mega Buster, but the Solar Flare also works on him, being an energy based weapon. It will deal about as much units of damage as several Mega Buster shots, so using either one deals the same damage.
Ad blocker interference detected!
Wikia is a free-to-use site that makes money from advertising. We have a modified experience for viewers using ad blockers

Wikia is not accessible if you've made further modifications. Remove the custom ad blocker rule(s) and the page will load as expected.