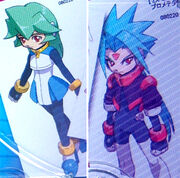 Mega Man ZX Extremus is a fictional game from the Mega Man ZX series. The game happens before the events of Mega Man ZX and also after. Prometheus and Pandora are playable characters in this game, as it focuses around their history and how they became Mega Mans working for Albert.
See also
Ad blocker interference detected!
Wikia is a free-to-use site that makes money from advertising. We have a modified experience for viewers using ad blockers

Wikia is not accessible if you've made further modifications. Remove the custom ad blocker rule(s) and the page will load as expected.