Determined to not let anyone else escape to the stars,Fuse gummed the entire Space port into fusion matter.Here, Lord C has sent a huge Ship that is infected now.The Skypad space port contains a lot of infected ships and navies.Iris sents several times X here in missions, in hope to clean up the mess, however X fails everytime.Fuse managed to trick Zero, Lord C and Dr. Ivi Rottnik to hate them each other determinating a showdown between them three.Now the three hid in the Ammunition depot where X is sent some times by Dr. Fauna to calm down them however X is determined to fight them three at the same time.On the south and east of the zone are several Lord C ships and Drones, apparently infected by fuse.
In The future, Skypad Space port is one of the remaining infected zones.Unlike the past version of this IZ (Infected zone), everything in the future version is destroyed, the conveyor belts are felt, all ships are now trash since they were destroyed by fuse.In the whole zone, only the huge ship of Lord C seems to be cleaned of fuse and is intact however, Ironcially, the owner and the fusion that hides on the ship is the both times Lord C.Above the ship graveyard, are a lot of Ziplines taking the player to zones impossible to reach by foot, like the lair of Fusion X that is on a ship hanged in the buildings from there.
Fusion Lairs
(Past)
Fusion Dr. Fauna`s lair
Ammunition depot
Ventilation core
(Future)
Fusion Lord C`s lair
Fusion X`s lair
Fusion Alia`s lair
Fusion Pallette`s lair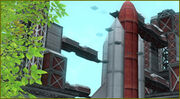 Ad blocker interference detected!
Wikia is a free-to-use site that makes money from advertising. We have a modified experience for viewers using ad blockers

Wikia is not accessible if you've made further modifications. Remove the custom ad blocker rule(s) and the page will load as expected.