Snake Girl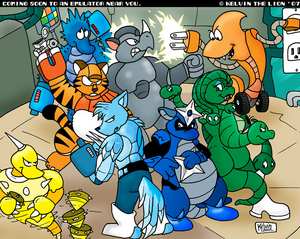 (shown at the middle right)
{{{nickname}}}
[[Category:Robot Master Serial Numbers|]]
{{{numberb}}}
Information
In-Game Information

Command Mission Stats

Type
--
Level
Life Energy
--
--
Fire
--
Exp.
--
Water
--
Zenny
--
Thunder
--
FME
--
Power
Armor
Shield
Speed
--
--
--
--
Steal
Drop
--
--

List of Abilities
Ability
Effect
{{{ability1}}}
---
{{{ability2}}}
---
{{{ability3}}}
---
{{{ability4}}}
---
{{{ability5}}}
---
{{{ability6}}}
---
{{{ability7}}}
---
{{{ability8}}}
---
{{{ability9}}}
---
{{{ability10}}}
---
{{{ability11}}}
---
{{{ability12}}}
---
{{{ability13}}}
---
{{{ability14}}}
---
{{{ability15}}}
---

Attack Damage:
 ?
Weapon:
Seek Serpent
Weakness:
Spike Shooter
Series Information
In-game Appearances:
MegaLion
Snake Girl is a boss in MegaLion who replaces Snake Man. She is an anthropomorphic serpent with hair like snakes.
Trivia
Her snake hair is reminiscent of the ancient creature, Medusa.
Ad blocker interference detected!
Wikia is a free-to-use site that makes money from advertising. We have a modified experience for viewers using ad blockers

Wikia is not accessible if you've made further modifications. Remove the custom ad blocker rule(s) and the page will load as expected.