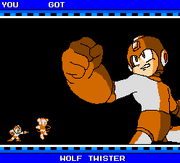 Wolf Twister is Wolf Man's power. This weapon creates a hologram of Mega Man spinning around (much like Top Spin) and fires it forward, destroying anything in it's path. It is Cable Man's weakness.
Attack power
Capacity
Usefulness
It can be useful for dispatching swarms of low-lying enemies.
Trivia
The hologram Mega Man uses the same graphics as Top Spin.
Ad blocker interference detected!
Wikia is a free-to-use site that makes money from advertising. We have a modified experience for viewers using ad blockers

Wikia is not accessible if you've made further modifications. Remove the custom ad blocker rule(s) and the page will load as expected.